Welcome to

Scapa

Technologies
The end to end security and application delivery performance specialists
Scapa Technologies
Scapa Technologies take pride in having the ability, and skill set, to find the most troublesome, and well-hidden performance problems in complex architectures. We are the team that is called into projects where numerous visits from architects and vendors have not resolved the client's issues.
Within a short period, we provide a very cost-effective service that can quickly identify the problem by performing monitoring/trend analysis and testing of applications under load. This helps identify issues and where the weaknesses are in the overall architecture. We focus on the end-user experience; we find by doing this that we can see potential problems that traditional testing and monitoring solutions would struggle to identify.
We have helped clients save millions of dollars on technology that would not suit their needs by providing evidence that the wrong technology stacks were being considered. We help identify issues that can quickly be resolved thus bringing projects in on time and on budget.
Most of our clients continue to use our service to assist in rollouts, upgrades and ongoing trend analysis so the business can understand their limitations and help them plan for the future.
If you would like to find out more about how we can help you and your business then please do get in touch.
What makes Scapa different?
An engagement with Scapa will make your organisation more responsive. Your team's productivity and efficiency will increase, and make IT more productive improving your business agility and resilience.
Scapa teams troubleshoot systems with an open mind, using tools and techniques that will deliver rapid results. We bring the speed of Automated testing to enterprise systems.
Our services include:
No code testing for complex environments (BMC Helix/Remedy ITSM a speciality)
Automated continuous testing and regression testing, API and service test automation
Introducing performance engineering into a SDLC, integrating test tool and activities into your stack and processes
Performance Testing, Analysis and Tuning, Capacity planning and testing
Our bespoke Trouble Shooting Service will uncover what is causing your system problem through root cause analysis and resolution
Change is inevitable, Scapa makes it manageable
Speed/Time to Results
Scapa TPP tests can be repeated quickly and easily, allowing you to make the right decisions for your business requirements.
Unique Software Design and Testing Methodology
Our software replicates IT system users' actions, by recording user activity with your own application mix, and replaying this at load, allowing their experience to be measured end-to-end. Taking measurements from both the end user perspective and each layer of the system architecture, and using our unique testing methodology, we determine user capacity, identify bottlenecks and other capacity, tuning, security or reliability issues.
20+ Years Expertise
With 20+ years of experience, our consultants have an extremely high level of expertise and understanding of testing, cybersecurity and ensuring IT system performance.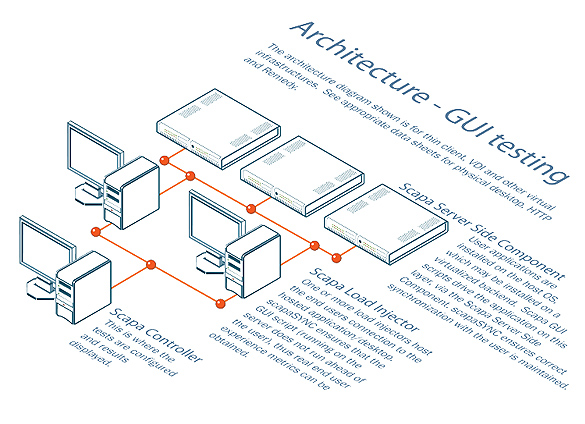 anemptytextlline

Over time organisations evolve to use many different platforms and languages to automate key...

anemptytextlline

Deep dive into remote client stutter behaviour in VMware protocols While we pride ourselves on...