Welcome to

Scapa

Technologies
The end to end security and application delivery performance specialists
Scapa Technologies
Scapa specializes in the reduction and removal of business risks resulting from the development and deployment of IT systems – such as Citrix, VMware and other VDI solutions, BMC Remedy ITSM, PeopleSoft, Oracle Forms, SAP based solutions and generic web applications – providing best of breed testing and monitoring software tools, security analysis, consulting services and a complete testing methodology to help you identify issues before they have a negative impact on your business.
Our tools help you quickly identify if there are bottlenecks and other capacity, tuning, quality or reliability issues in your unique system architecture AND will also help you resolve them.
What makes Scapa different?
Scapa Technologies' tools measure the end to end performance of the system, from the users' perspective – the measurement that is most meaningful to your business operations, productivity and profits AND which produces the most accurate results. Our approach to testing, security, benchmarking, capacity planning, regression testing and production monitoring – by replicating real users' actions to obtain their perspective of how your systems perform – is unique.
Our tools are capable of testing many systems, as well as a mixture of API and GUI tests at the same time, so you can identify bottlenecks and other potential issues quickly, to maintain performance and Service Level Agreements (SLAs). Our expertise in building custom workflows for a wide range of systems is second to none. This experience, coupled with the flexibility of our tools, is the best solution for building a robust, reliable testing framework for your unique application mix.
Change is inevitable, Scapa makes it manageable
Speed/Time to Results
Scapa TPP tests can be repeated quickly and easily, allowing you to make the right decisions for your business requirements.
Unique Software Design and Testing Methodology
Our software replicates IT system users' actions, by recording user activity with your own application mix, and replaying this at load, allowing their experience to be measured end-to-end. Taking measurements from both the end user perspective and each layer of the system architecture, and using our unique testing methodology, we determine user capacity, identify bottlenecks and other capacity, tuning, security or reliability issues.
20+ Years Expertise
With 20+ years of experience, our consultants have an extremely high level of expertise and understanding of testing, cybersecurity and ensuring IT system performance.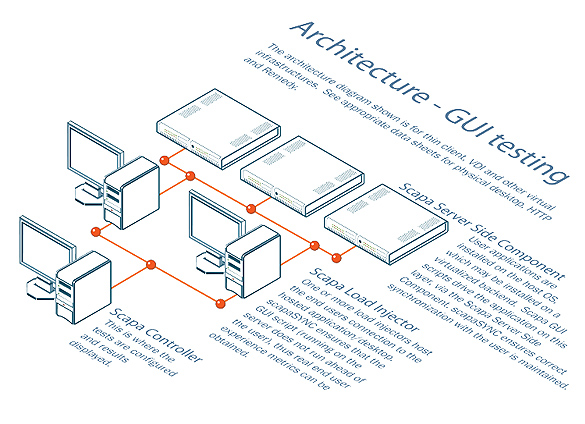 anemptytextlline

Anyone familiar with End-User/Server Based Computing will be well used to the idea of...

anemptytextlline

There have been some pretty cool improvements to our software recently that new (and...